Tiffany Hall, LCSW, LCADC
The Morton Center's, Clinical director

Tiffany graduated from Murray State University in 1998 with her Bachelors in Social Work. After beginning her social work career in Western Kentucky, where she was born and raised, she decided to move to Louisville in 2001, and began working towards her Masters in Social Work in 2003, completing her MSW in 2005, at Spalding University. After spending 20 years of her career working for a large, local non-profit, starting as a case manager and then a therapist and growing in leadership, spending her last 5 years with the organization as the Chief Operating Officer, overseeing 650 employees working 6 departments in 4 states. Tiffany also began teaching as an adjunct professor in 2007 at her alma mater, Spalding University. She continues this work today, teaching mostly addictions courses that are a part of the Addictions minor curriculum that Tiffany created at Spalding. In November of 2022, Tiffany had a life-changing health crisis that forced her to prioritize her health and work-life balance in a new way, and she left the non-profit that she had spent 20 years at, in January 2023. In August of 2023, ready for a more manageable leadership role in an organization she had long respected and collaborated with, she began as The Morton Center's clinical director. She is licensed in Kentucky as a LCSW and a LCADC.

Her specialties within the field include trauma and working with couples/impacted family members of the person with substance use disorder. She believes in meeting clients where they are and honoring them as the navigators of their own journey.

Tiffany also enjoys serving her community in various capacities and loves spending time with friends and family. She has been married to her husband John for 20 years and they have 2 sons, ages 13 and 9, and a sweet dog named Zoe. Tiffany also loves to travel, enjoys swimming and running, and likes putting legos together with her boys.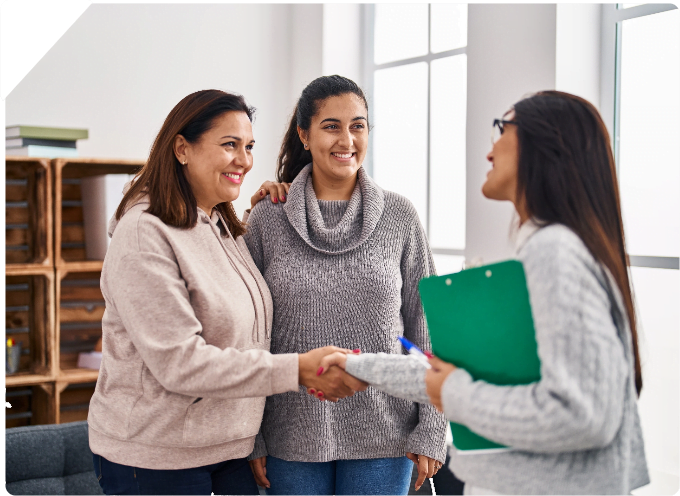 Let's Start Your Recovery!
The Morton Center supports a 12-step model of recovery and uses evidence-based practices to treat individuals, couples, and families.